In an effort to ensure the maximum audience for Black Treacle we have decided to publish on Amazon starting with the March issue.
We are still committed to delivering Black Treacle for free. The Smashwords edition will always be free upon release and distributed to the major retailers (Kobo, B&N, Sony, Apple, etc).

Since Amazon doesn't offer an option for free distribution (other than KDP select), it will be released for 0.99.
* * *
The cover art is completed for our March Issue: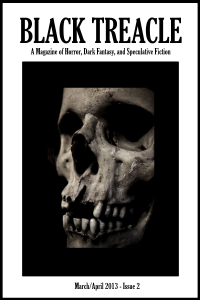 * * *
Now the teaser.
We have a special announcement planned for the March issue regarding a change in our submission needs. We're very excited about this change and can't wait to share the full details.